Beschrijving
Flowerpot VP1 hanglamp
De Flowerpot VP1 hanglamp is voornamelijk gemaakt van metaal, ijzer en aluminium. De lampenkap is verkrijgbaar in verschillende kleuren.De Flowerpot hanger serie Verkrijgbaar in twee maten Optioneel.
Ontworpen om te worden verzadigd in herhaalde patronen, zou de populaire Flowerpot VP1 hanglamp een eervolle toets zijn aan uw luxe hotelfoyer of stijlvolle commerciële bar. Hang ook drie van je charmante Flowerpot-hangers op een rij om je ultramoderne keukenblad op te fleuren.
De tijdloze bloempot werd voor het eerst ontworpen in 1968 en doet denken aan het verleden, maar overstijgt de tijd echt met een futuristische en speelse esthetiek. De vintage Flowerpot VP1 hanglamp verlicht uw ruimte direct met een moderne twist.
Let op: Door de verschillende kleuren van de individuele batches kunnen er kleurverschillen optreden. Neemt u gerust contact met ons op
Let op: uw betaling is exclusief douanerechten, lokale belastingen of andere importkosten. De bestelling is exclusief bollen.
Als u vragen heeft over onze producten, neem dan contact met ons op en wij nemen binnen 24 uur contact met u op.
Product grootte
Dia 23cm x H16cm / ∅ 9,1 ″ x H 6,3 ″
Dia 37cm x H26cm / Φ 15.8 "x H 10.2"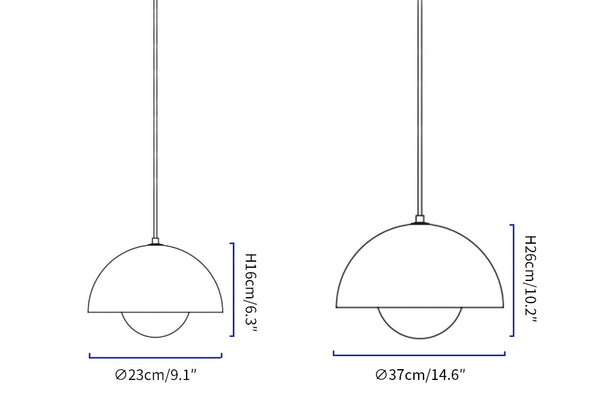 Details
Materiaal: metaal / ijzer / aluminium
Lichtbron: E27
Vermogen: Max 40W
Gewicht: 2 kg / 4,4 lbs
Afwerkingen: wit, mat lichtgrijs, mat zwart, geel, roze, diep rood, donkergroen, zwart blauw, gepolijst messing, gepolijst koper, gepolijst roestvrij staal.
Proces: Galvaniseren / schilderen
Besturingsmethode: drukknopschakelaar (niet dimbaar)
Wij bieden kabellengtes van 150 cm / 59 ". Kabellengtes kunnen naar behoefte worden verlengd.
Andere ontwerpen van deze serie: