Why do I strongly recommend the use of a dining table pendant light?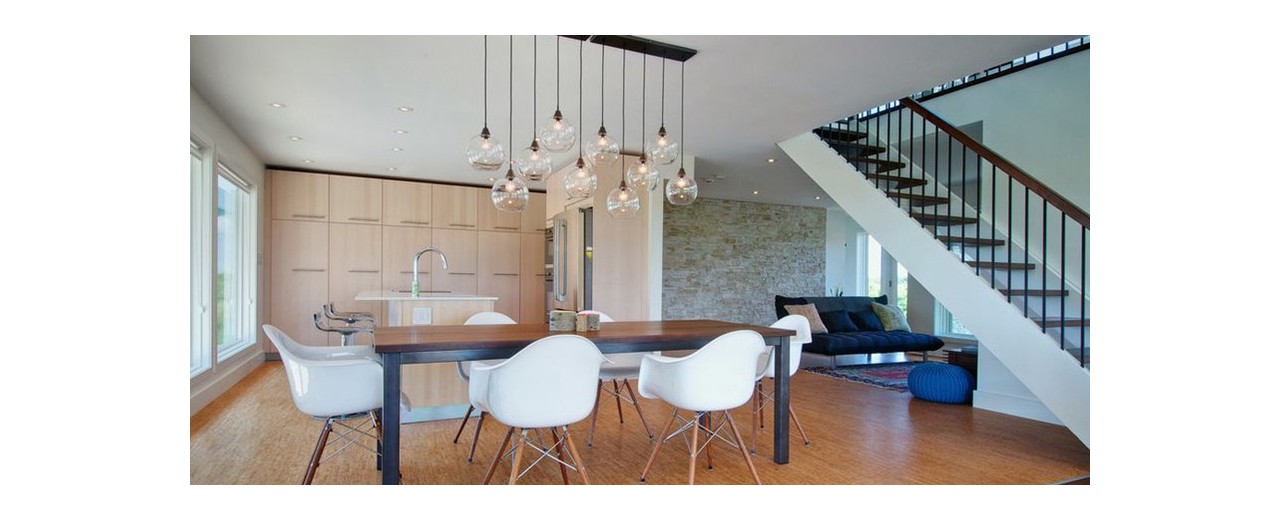 The restaurant is a place where more attention has been paid to creating atmosphere in the room. If you want to make it full of cosiness, a hanging lamp dining table is indispensable. The dining table pendant lamp is the best choice for this space. So what should you pay attention to when choosing a pendant light dining table? Next, I recommend a beautiful and practical hanging lamp dining table.
Why should you install a chandelier in the restaurant?
1. Balance the space and improve the visual effect
If the restaurant is spacious enough, it is very suitable to choose dining room table pendant light as the main light source for lighting and creating atmosphere. The size of pendant lamp for dining table should be based on the size of the dining table as a reference standard. Under normal circumstances, the diameter of the pendant lamp dining table is the best half of the width of the dining table. The distance to the dining table should be between 70cm-80cm. If the restaurant space is not particularly spacious, you can choose a small chandelier, which will not make people feel depressed, but make the restaurant more balanced in the vertical space.
A few tips for reference:
1.Dining table under 1.6m
✔A hanging lamp dining table of about 50cm
✔Two 30~40cm Pendant Lamp Dining Table
✔Long dining table pendant lamp no more than 90cm
2.1.6m~1.8m dining table
✔A hanging lamp dining table of about 50cm
✔Two hanging lamp dining table approx. 40cm
✔ Hanging lamp dining table no larger than 100cm
3.Dining table above 1.8m
✔ More than two hanging lamp dining table of about 50cm
✔Long hanging lamp dining table over 100cm
2.Create atmosphere and increase appetite
The purpose of dining table pendant light is not only to illuminate, but also to create a warm atmosphere, and for that, the warm color dining table pendant light is the best choice. Hanging lamp dining table is a master at creating atmosphere. With chandeliers in the restaurant, the feeling of a family eating together becomes warmer. Even when the dishes are ordinary, the soft lighting can relieve an extraordinary feeling and increase the family's appetite.
Hanging lamp dining table recommended
This wooden hanging lamp dining table wood is a simple style of lighting. The lampshade made of real natural wood provides comfortable light in your restaurant. It also has a simple and modern design. This pendant light dining table design can give you a romantic atmosphere.
Nus hanging lamp dining table glass is mainly composed of metal, plastic and steel. There are a total of four colors to choose from: transparent, smoky, taupe and olive green. The shape of Nus hanging lamp dining table colored glass is like a fruit growing on a tree. Because it is soft and unobtrusive, it can be hung in multiple combinations above the dining table and can easily create a romantic and comfortable atmosphere. When the Nus pendant lamp dining table is switched on, the soft light from the lampshade will be reflected.
The Chiswick hanging lamp dining table metal hanging lamp will certainly bring some extra cosiness to your living space and impress your guests. Chiswick pendant lamp dining table glass balls has different shapes for you to choose from, you can mix and match them in different lengths to suit your taste. Form a layered and diverse visual effects.
This moderns dining table hanging lamp is handmade from square steel rods and made in matt gold or matt black, which are an eye-catcher in different rooms. This dining table pendant light uses metal material to form the shape of a diamond. The shiny sphere in the center of this dining table pendant light is particularly eye-catching. To add an industrial feel to the interior, the diamond pendant light dining table industrial perfectly combines the rich feel with the industrial and fashionable modern atmosphere embodied by the steel wire.
The Flowerpot VP1 pendant lamp is mainly made of metal, iron and aluminum. The lampshade is available in different colours. The trendy pendant light dining table is designed as a saturated candy color, with its round appearance, it looks more interesting and cute. Because Flowerpot hanging lamp dining table can choose different colors, you can match different colors of Flowerpot hanging lamp dining table to your own preference, so that the modern style can immediately illuminate your space.
You may like this article:
The most popular replica of a flowerpot lamp
Multi-Lite hanging lamp dining table modern is characterized by its unique and playful lampshade. The base of the lamp consists of three basic shapes, two fixed cylinders and a hemisphere. The hemisphere is divided into two parts, so the two halves are movable. You can change the angle of the light by adjusting the position of the semicircle. By turning half of the lampshade, the lamp not only changes visually, but also the appearance of the lighting. Multi-Lite hanging lamp dining table dimmable is a very special lighting.
You may like this article:
The Most Flexible Lamp—Multi-Lite Pendant Lamp
The PH5 chandelier uses a layered pinecone shape, which looks like multiple shells and shells placed together in a special combination. The multi-layer lampshade of the PH5 chic pendant light dining table reflects the light to form soft diffused light, opening a new lighting standard based on human comfort, a milestone in lighting design. PH5 dining table pendant light has a multi-color shell to choose from. The pure color is simple and practical, and the color is vivid and playful. You can choose the right color according to your home's decoration color system.
You may like this article:
Chic and popular replica of PH5 pendant
Copenhagen pendant lamp dining table has a stylish industrial style and extremely practical. The eye-catching Copenhagen hanging lamp dining table is made of high-quality metal and fabric and looks great on an indoor restaurant table. The Copenhagen hanging lamp dining table black metal weighs only 1 kg, making it so light that you never have to worry that it is too heavy for a fixed point. If you like modern industrial style lamps, this is your ideal choice.
Needless to say, the importance of lighting, the change of light and shadow directly affects the quality of a photo, a show and a movie, and your indoor space is no exception. Lighting is a necessary condition for a good dining table and a good appetite, don't hesitate! Dining table and chandeliers are a better match!
Related posts

Designer: Jørn Utzon Jørn Utzon is one of the most influential Danish architects of the 20th...