Beautiful glass table lamp- Pulpo Oda Table lamp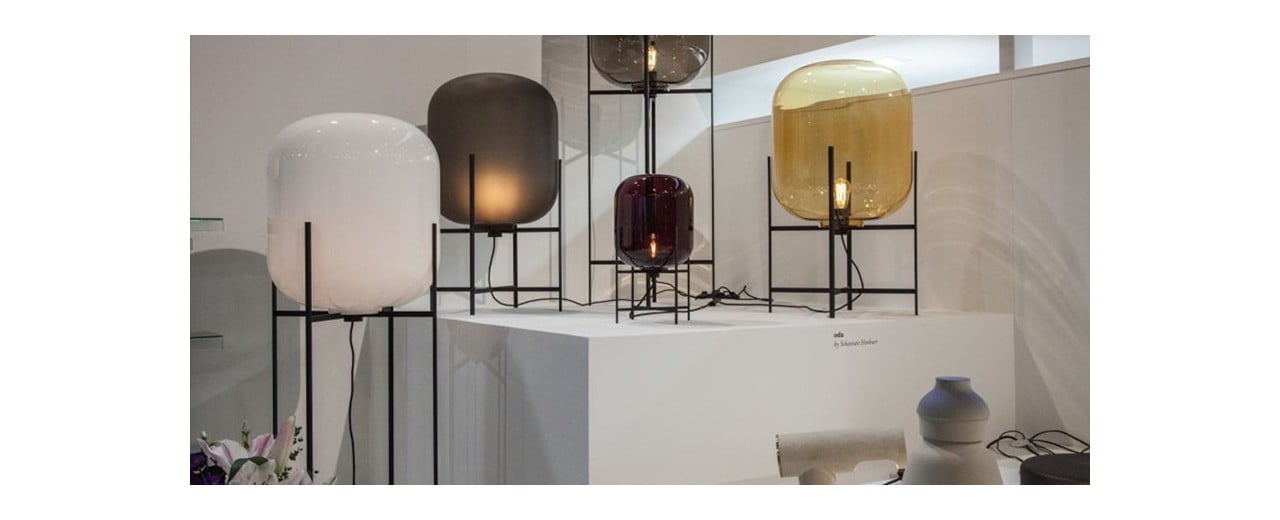 Homelights introduces the Pulpo oda lamp replica, a perfect reproduction of German award-winning design. Oda lamp glass was launched by the German famous company Pulpo, a manufacturer of delicate indoor decorations. The Pulpo Oda Replica collection reveals the beauty and variety of glass. In this collection of glass table lamps you will find different styles.
Oda lamps come in three sizes that can be used as a table lamp or floor lamp. Oda lamp replica consists of a four-legged metal base and a closed cylindrical glass lampshade. The base forms two crosses. The large lampshade is embedded in the base, which is like an egg set in it. The lamp holder is located in the center of the bottom. And the wire comes out of the bottom, which makes the table lamp look like a tadpole. There are four colors of glass, grey, amber, light blue and transparent, which gives different characteristics to this collection, such as the high-end and stylish oda gray floor lamp large. The glass decoration is suitable for any interior decoration because it can show its charm and not hide the glamor of others at the same time.
Oda Small Lamp is usually placed on the table in the entrance, living room or bedroom to be part of interior decoration and mood lighting. The size is Dia 28cm × H 47cm, which is the standard size of table lamp. The hierarchical structure of the glass lampshade and the metal base extends the visual effect. The four-legged base and embedding design allow the huge glass lampshade to settle steadily on the table.
When lit, the oda table lamp emits light inside and the glass shines. The lamp is visible from the outside. Oda small table lamp looks like a candlestick, which has a burning flame that will never be extinguished.
Unlike Pulpo Oda Lamp Small, pulpo lamp oda medium can be placed on the table or on the floor. Oda table lamp has a height of almost 70 cm, which can be placed on a low table and looks like an indoor potted plant. Oda table lamp replica can be placed next to the sofa to emphasize the huge glass jar-like lampshade. With warm light, it is like a jar filled with sunlight, making people feel relaxed and happy. When you need an ambient light, you can simply illuminate this oda glass lamp. Oda middle table lamp is not necessary to turn on the pendant lamp. It will warm you up.
Oda floor lamp has a high four-legged base, which has a slim streamlined shape. However, the large glass sphere neutralizes its minimalist design. Oda lampa kopia has a height of 88cm, which is suitable to be placed on the floor. When lit, it is like a luminous pearl on the shelf. It can be combined with a low side table to form an enclosed space, which is romantic and elegant. The colors of glass affect the clarity of pearl. If you want brighter, you can choose light glass color, such as transparent, light blue and amber glass. If you like the color and shine of the glass itself, you can opt for gray glass.
Modern Oda capsule table lamp is a beautiful lamp when you see it at first glance. You may be impressed by the large glass lampshade, the visible lamp or the slim four-legged base. You may also worry that it will look like a fragile ornament. But the artful design and super technology ensure safe use of this glass lamp. It adopts a special thick glass, which keeps an excellent transparency and hardness at the same time. The smooth and round surface gives a comfortable visual and touch feeling. Without more embellishments, the design itself shows an elegant and high-end fashion.
Oda lampa is a classic collection of glass lamps. It has been popular all over the world since it was launched. Many people are attracted by the simple yet bold design. The huge pot is not filled with water, but light. Sometimes, if you couldn't notice the base, you might find it a magic jar floating in the air resembling a colorful balloon. It uses the brightness and emission of light to create a gradual bond. The light is covered by this large lampshade and spreads inside. Oda capsule lamp is suitable for a decorative lamp in the living room and the entrance to attract your guest. It can also be a bedside table lamp to accompany you at night.
A variety of sizes and colors make this collection of glass lamps suitable for a wide range of needs and preferences. You can even place multiple pieces to decorate a corner with different sizes and colors. The transparent glass table lamp clearly shows the luminous bulb, and with a retro Edison bulb, it shows a chic shape of lamp and burning filaments, which contains a charm. The light blue glass is relatively rare in lighting. Light blue is a color full of poetic tone, symbolizing the sea and the sky. The light blue table lamp makes the room fresh and romantic. With filaments that make the amber glass shine, it plays an elegant and retro rhythm of classical music. Gray glass table lamp is a symbol of high-end and low-key luxury. It is the epitome of modern minimalist design.
Related posts

We've all been in rooms that just feel right. They have a tactile, comfortable vibe that will...